2014 is coming to a close and, as is our annual tradition here at Board Game Quest, we are going to take one last look back at the year. I swear it gets harder and harder each year to put together this Top 10 list. There are just so many quality games coming out each year that it's so hard to narrow them down. I'm sure I had to leave out many of your favorite games from this year, it always seems to happen. .
Also continuing in on what we started last year, this list will be split into two halves. Since games from the October Essen Spiel always seem to take a long time to make it "across the pond", it's hard to rank every game that comes out when we don't even have some yet! With that in mind, the first half of the list will be our Top 10 Games from 2014, which only includes games that I've actually played. The second half will be the games we're most looking forward to getting to our tabletop. As games start to arrive on our shores in the spring of 2015, we should have ample time to play them before we have to make our decisions on our 2015 Board Game Awards. Until then, let's get to the lists!
Top 10 Games of 2014
Honorable Mention: Port Royal
Just barely missing the cut, Port Royal gets an honorable mention for being a game that caught me by surprise this year. I had not heard of this game until a friend brought it over to my house for a game night. I quickly fell in love with this press-your-luck card drafting game. Port Royal has a great theme and also plays quickly. For a price of about $20, it's hard not to grab a copy of this gem.
2-5 Players • Ages 8+ • 30 minutes to play • $15
10. Legendary Encounters: An Alien Deck Building Game
I've always been a fan of the Legendary series (see my review of the Legendary: Marvel Deck Building Game) and Legendary Encounters was a massive upgrade on an already great game series. Just barely missing the top spot in our Top Ten Deck Building Game list earlier this year, Legendary Encounters lets players play through the Alien movies in a pure cooperative game with the possibility of a betrayer being thrown in the mix. This is a highly thematic game that is a lot of fun.
1-5 Players • Ages 17+ • 45 minutes to play • $50
9. Black Fleet (review)
I love a good pirate game and Black Fleet has easy to learn rules and creative game play make it a fantastic family game. In this Caribbean adventure, players take command of a fleet of ships playing their trade during a time when the wooden sailing ships ruled the seas. You get to command a pesky pirate ship, the royal navy and also a merchant ship tasked with delivering goods around the Caribbean. With some fantastic components, this one was an instant hit on our gaming table.
3-4 Players • Ages 10+ • 60 minutes to play • $42
8. Istanbul (review)
Winner of the 2014 Kennerspiel des Jahres (German "Connoisseur" game of the year award); Istanbul is a clever eurogame where players lead a merchant group through an exotic bazaar. The fun in Istanbul comes with its unique movement mechanics. Each location landed on gives the merchant different options of what he can do on his turn, but careful planning is must in this game. The merchant's assistants will be left behind as he takes actions, and he must plan his routes careful because he'll need to pick the same assistants up to use them in the future.
2-5 Players • Ages 10+ • 50 minutes to play • $45
7. Abyss
This undersea eurogame features some truly stunning artwork to go along with its unique game mechanics. Featuring both set collection and a press-your-luck mechanic, players are trying to obtain the most influence to become the next ruler of the undersea world. Asmodee Games did an outstanding job publishing Abyss; not only with the aforementioned artwork, but also with the great game components (you get a bag of pearls to use as game currency). I've also heard rumblings of an expansion due out in 2015.
2-4 Players • Ages 14+ • 45 minutes to play • $32
6. Sheriff of Nottingham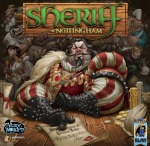 This one got a lot of hype surrounding its Gen Con release as it was the first in the new line of "Dice Tower Essentials" games. In this social game of bluffing and set collection, players take on the roles of merchants trying to bring goods into the city. The fun part is that each player gets to take a turn as the Sheriff, and must question the other players to try and stop contraband from entering the city. Sheriff of Nottingham can be an absolute blast with the right group of players. This game is a must for any group of outgoing people.
3-5 Players • Ages 13+ • 60 minutes to play • $60
5. The Battle of Five Armies (review)
If you haven't played it, War of the Ring was an absolutely stellar game set in the Lord of the Rings universe. The same game designers decided to take a stab at another game in middle-earth with The Battle of Five Armies. To say they had a lot to live up to would be an understatement. Thankfully, they hit this one out of the park with its great game components, streamlined mechanics and thematic experience.  In The Battle of Five Armies, players are treated to an intense game of conflict and combat with some excellently sculpted miniatures.
2 Players • Ages 13+ • 90 minutes to play • $70
4. Eldritch Horror (review)
For a while, Arkham Horror was my go to game for Lovecraftian adventure. While good, the game was bogged down with some clunky mechanics and an even worse rulebook. When Eldritch Horror was released this year, I had some high hopes that it could replace Arkham Horror in my game collection. Lucky for me my wish was granted because after playing Eldritch Horror, I sent my copy of Arkham Horror off to the other-world dimension. Eldritch Horror takes players on a globe-trotting tour as they try and stop an elder god from awakening. With the usual Fantasy Flight Games treatment of quality, Eldritch Horror offers a streamlined and fun adventure for players who like a good challenge.
1-8 Players • Ages 14+ • 180 minutes to play • $37
3. Dead of Winter
Definitely not just "another zombie game", Dead of Winter was one of my favorite releases at Gen Con this year. In this cooperative game of survival, players must work together to accomplish the scenario's objectives in a post-apocalyptic, zombie infested world. There is also the chance that one of your fellow players will be out to betray your struggling colony, but the key is that you don't know for sure. What really makes the game shine is its interesting "Crossroads mechanic", which I'm expecting to see in future games from publisher Plaid Hat Games.
2-5 Players • Ages 13+ • 100 minutes to play • $60
1-Tie – Five Tribes
When it came down to choosing my #1 and #2 I honestly just couldn't decide. Both of these last two games are so good that I'll play them absolutely anytime someone suggests it. So this year we have a tie for first place. Anyway, Five Tribes was publisher Days of Wonder's first "gamer game" and they absolutely blew it out of the water. Veteran game designer Bruno Cathala really nailed this one in creating a game that's both really unique and a lot of fun to play. He took the ages old Mancala mechanic and dropped it into a game that uses it with amazing results. The only thing to watch out for in 5 Tribes is that if you have friends prone to "analysis paralysis" then this game could be trouble for them. But on the whole, Five Tribes is almost a love letter to the eurogame fan.
2-4 Players • Ages 13+ • 60 minutes to play • $60
1-Tie – Imperial Settlers (review)
Sharing the top spot in 2014 with Five Tribes is Imperial Settlers. Of all the games on this list, Imperial Settlers is probably the one that I've played the most since its release. For me, it hits all the right spots that I want in a card game. It lets me use each card in different ways, which I always love. Second, the game comes with 4 different races that will all approach the game in a slightly different way. I think variable races in games always help to make each play unique. Portal Games was so successful in designing these races that players are clamoring designer Ignacy Trzewiczek for more! Imperial Settlers is a game that's really easy to teach, a lot of fun and plays in just the right amount of time. This 5 star game will enjoy a permanent home here at BGQ HQ and will likely continue to make its way to our gaming table often.
1-4 Players • Ages 10+ • 60 minutes to play • $37
Top 10 Games I want to Try
10. Fields of Arle
I wasn't sure on Fields of Arle at first because it's a 2 player only game that takes about 2 hours to play. Usually when I'm doing a 2 player eurogame, I want something a bit more streamlined, and most of the time we have more than 2 players. However, after seeing all the components that come in the box and flipping through the rule book, I do have to admit that it looks pretty interesting. I'm not sure when I'll get this one to the table, but I'm hoping it makes its way at some point.
1-2 Players • Ages 14+ • 120 minutes to play • $80
9. Camel Up
Camel Up was one of the highlight games from Gen Con for my fellow writers Brian and Tyler. Camel Up came to the forefront this year after winning the highly coveted Spiel des Jahres award. In this family game, players are placing long term and short term bets as a group of camels race around a pyramid. The theme is unique for sure and I've heard nothing but good things from my fellow writers on this title. The fact that it won the Spiel des Jahres also makes me eager to check it out.
2-8 Players • Ages 8+ • 30 minutes to play • $34
8. Lords of Xidit
The first thing that attracted me to Lords of Xidit was the fantastic visuals by one of my favorite board game artists, Naïade (Seasons, Tokaido). In addition to the great visual, Lords of Xidit features simultaneous action section (which I always enjoy) and an elimination-based scoring system that sounds pretty unique. I swear I'm always a sucker for board games with great looking visuals and components. 🙂
3-5 Players • Ages 14+ • 90 minutes to play • $42
7. The Ancient World
The latest board game by publish Red Raven Games (Eight Minute Empire), The Ancient World is a set collection and worker placement game set during a time when the Titans ruled the earth. The thing that first attracted me to The Ancient World is that it features artwork painted by Ryan Laukat, whose style I absolutely adore. I'll hopefully be picking this one up soon.
2-4 Players • Ages 13+ • 60 minutes to play • $50
6. Castles of Mad King Ludwig
Published by Bezier Games (Suburbia, One Night Ultimate Werewolf), the Castles of Mad King Ludwig has players building out the castle for King Ludwig II of Bavaria, one room at a time. While it reminds me some of their previous game Suburbia (which I love), I think it's probably different enough for me to check out and hopefully add to my game library.
1-4 Players • Ages 13+ • 90 minutes to play • $55
5. Hyperborea
I love a good civilization building game. From Nations to Sid Meier's, I always seem to be getting one to the table. The only down side of them is the play time usually pretty steep. Hyperborea boasts a play time of only 20-25 minutes per player (which is great for a civ game) and some unique rules. The game's main mechanics seem to involve you building a pool of cubes via a process they call "bag building". I'm pretty intrigued by this one.
2-6 Players • Ages 12+ • 90 minutes to play • $65
4. Alchemists
Following on the heels of X-Com's announcement that it will be featuring a mobile app requirement to play the game, Alchemists also incorporates this technology into the game. Players are trying to make potions in the game, and they gain knowledge by mixing and testing ingredients using the smartphone app. It seems like a neat concept, I'm just hoping it's not a gimmick and actually works well with the game.
2-4 Players • Ages 13+ • 120 minutes to play
3. Deus
Deus reminds me a bit of Nations, our 2013 Game of the Year from our Board Game Awards. Deus is a civilization building game where players are using cards to build out their civilizations on a shared, modular board. I like the abstract nature of the game as it still feels a little different from what else is out there. I'm hoping this one will make it across my gaming table soon.
2-4 Players • Ages 10+ • 75 minutes to play • $42
2. Nations: The Dice Game
Yes, another civilization building game makes the list, but that's OK because I absolutely love these types of games. Nations: The Dice Game, however, combines the civilization building element with a dice rolling game (another staple here at BGQ HQ). While it probably won't be as deep as its older brother Nations, it still looks like a lot of fun to play. Whenever I start to think I have enough dice rolling games, another one seems to come along and get my attention.
1-4 Players • Ages 10+ • 30 minutes to play
1. Star Wars: Imperial Assault
I saw this game at Gen Con this year and immediately fell in love. The minis look great and the game play is based on one of my favorite dungeon crawlers of all time, Descent: 2nd Edition. Star Wars: Imperial Assault can be played either in a one-off skirmish game or as a full blown campaign. I have already rounded up a group of other players and we are going to get this one to the table in the New Year and play though the campaign mode. I can't even begin to contain my excitement…
2-5 Players • Ages 14+ • 90 minutes to play • $75
As always, it's hard to narrow down the choices. It feels like 2014 had a lot of really great games come out, so this list is definitely not representative of all the good games that year. Did we miss your favorites? Let us know in the comments below.