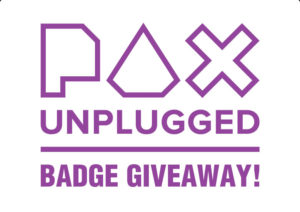 Next week is the first annual (I assume it will be annual at least) PAX Unplugged Game Convention. The folks over at Penny Arcade definitely know how to put on a show, as their regular PAXs have always been outstanding. Yet this is the first year they are focusing on a convention for board games. Will it be as awesome as their video game shows? There's only one way to find out. Attend!
With that in mind, we are giving away Free 3-Day Badge to 10 Winners. That's right, 10! What's the down side? The show is next week, November 17-19th in Philadelphia, PA. So travel arrangements are on your own. However a large portion of the BGQ crew will be there covering the convention, so you can even meet us if you go (that's a perk, right?)
Since the show is so close, we are going to keep this short and sweet. Use the handy little contest form below to enter. We'll email the winners this Sunday, November 12th, so you still have time to get your travel arrangements in order (if necessary). You have about 48 hours to get your entries in, so no slacking.
NOTE: Winners will be required to provide their full name and email address to PAX so they can pick-up their badge at will call onsite. Obviously it's too late for shipping.
10 Badges to Giveaway