There was a time when if you wanted to consume some superhero goodness, comic books were about all you had. Hollywood's take on superheroes was laughable on the best of days (and they were not comedy movies), and the board game realm was regulated to regurgitated tiles like Marvel Monopoly or some trivial pursuit offshoot.
Well fret no longer because as the movies have finally gotten entertaining thanks to Marvel Studios and Christopher Nolan, we also now have tabletop games of equal greatness. So strap on your spandex and capes (or maybe you are in the NO CAPES! crowd) as we dive into the Top 10 Superhero Board games.
Top 10 Superhero Board Games
10. Funkoverse DC Strategy Game
Debuting at Gen Con 2019 was the Funkoverse Strategy Game. This title of goofy looking miniatures spreads a pretty far gamut of themes–from Harry Potter, to The Golden Girls, to even Kool-Aid Man. Funko Pop clearly isn't afraid to try new things. But one of their premier offerings is from the DC universe. Players get to control Batman, Batgirl, Joker, and Harley Quinn in this easy to learn skirmish game using their unique brand of minis.
2-4 Players • Ages 10+ • 20-60 minutes • $25
9. Batman: The Animated Series – Gotham City Under Siege
This cooperative game features not only a lineup of Batman heroes, but 3D buildings for the game board. Over the four acts of the game, players will be working together to defeat villains and masterminds from Gotham City's rogue's gallery. Not only that, but players also must contend with events that pop up via the game's story cards. If you are a fan of the Batman: The Animated Series cartoon, then Gotham City Under Siege is worth a look.
1-5 Players • Ages 14+ • 45-60 minutes • $30
8. Dice Masters Marvel/DC
This collectible dice building game was based off the much loved Quarriors system and has been well supported for years. Players field a team of superheroes represented by dice from their choice of DC or Marvel characters. Each player starts with a handful of dice, but can buy more throughout the game, building up their available options. While the random nature of the booster packs in Dice Masters won't be for everyone, the actual gameplay itself is very well designed.
2 Players • Ages 14+ • 60 minutes • $12
7. Sentinels of the Multiverse
The only game on the list that is not based on a licensed IP. If I had made this list half a decade ago, Sentinels of the Multiverse would have easily taken the top spot as it was the best option in superhero gaming for a long time. Even though it's since been dethroned from the top spot, the gameplay itself is easy to learn (draw a card, play a card) and features a wide variety of unique heroes for the players to control. This cooperative game has been supported with tons of expansions over the years so there is no shortage of options for players to keep the gameplay fresh.
2-5 Players • Ages 8+ • 30-60 minutes • $30
6. Marvel Crisis Protocol
This skirmish game would probably be a bit higher on the list if the cost of admission was a little bit lower. This is due to the fact that the minis for Marvel Crisis Protocol need to be painstaking assembled—Iron Man comes in 15 pieces that have to be glued together—before you can even start playing. However, once you are up and running, the gameplay is fun with lots of fast and frequent combat. Players can mix and match their teams how they see fit, and build a squad of heroes, villains, or even both. The character movement, thankfully, eschews using tape measures in favor of an X-wing type of movement system, which I'm a fan of.
2 Players • Ages 14+ • 45 minutes • $80
5. Legendary: A Marvel Deck Building Game
The Legendary system is a great deck building game that has spawned a ton of thematic offshoots. However, Legendary Marvel was one of the first and my absolutely favorite until the Encounters sets started rolling in. Yet for some great comic book, deck building action, you'd be hard-pressed to find a more entertaining and easy to learn system. And much like other titles on this list, Legendary Marvel has already been treated to a wealth of expansions featuring your favorite heroes and villains.
1-5 Players • Ages 14+ • 30-60 minutes • $50
4. The Reckoners
My favorite Brandon Sanderson novel became a board game in this dice rolling, cooperative game. The Reckoners is about a team of guerrilla fighters who are attempting to take back their city from a host of super-villains called Epics. Players will each control one of the Reckoners and must juggle a lot of balls as they attempt to defeat epics, remove barriers and enforcers, all with the goal of taking down the big bad guy, Steelheart.
1-6 Players • Ages 13+ • 60+ minutes • $75
3. Teenage Mutant Ninja Turtles: Change is Constant/City Fall
Teenage Mutant Ninja Turtles: Change is Constant and City Fall are a reimplantation of the well-received Teenage Mutant Ninja Turtles: Shadows of the Past board game. This new version not only includes updated rules for the 1 vs Many gameplay, but now allows players to enjoy the game in a fully cooperative mode—something gamers have been asking about for years. Each player gets to control a familiar TMNT hero and will work through a series of connected missions in a variety of mini-campaigns. With a highly interactive dice system, Teenage Mutant Ninja Turtles: Change is Constant is a huge hit on our gaming table.
1-5 Players • Ages 14+ • 45+ minutes • $95
2. Batman: Gotham City Chronicles
Much like my Top 10 for 2019, Batman: Gotham City Chronicles just barely misses the top spot in my rankings. This 1 v Many game (although it works best as a two-player game) has one team controlling up to three Batman universe heroes, while another player controls a host of villains and thugs from Gotham City. The gameplay has almost a euro style feel to it as players must carefully manage their allocation of resource cubes that drive all their actions. If you're looking for a game with deep, strategic roots and a variety of thematic missions, then check out Batman: Gotham City Chronicles.
2-4 Players • Ages 14+ • 60-90 minutes
1. Marvel Champions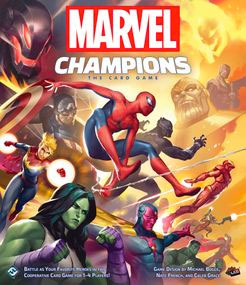 It should be no surprise that Marvel Champions takes the top spot in my rankings. Even though the game has been out for only about half a year, it's been nothing short of fantastic. In this cooperative game, each player constructs a deck of a familiar Marvel superhero as they attempt to defeat a supervillain and keep his scheme in check. Publisher Fantasy Flight games has also shown strong support of this Living Card Game by releasing a new superhero or villain each month since it's release. Marvel Champions not only has excellent, streamlined gameplay, but is the first title I'm going to reach for when I have the "superhero itch".
1-4 Players • Ages 14+ • 45-90 minutes • $50