Thanks to the Marvel Cinematic Universe, the Marvel brand is as hot as it's ever been. You can't shake a stick without banging it on something that the house of the mouse has licensed with the likeness of Iron Man, Captain America, and the rest of the crew. And with this year's anticipated releases of Marvel Unmatched and X-Men: Mutant Insurrection, that train doesn't seem like it will be slowing do anytime soon.
So I thought I'd talk about my current favorite Marvel board games for people looking to get in some Marvel gaming right now. And surprisingly, there are actually quite a few good ones to choose from. What follows are my Top 10 Marvel Board Games. So if you are itching for some Marvel superhero action, hopefully, there is a game on this list that sparks your interest.
Top 10 Marvel Board Games
10. Marvel Villainous (review)
Just barely making its way on this list is the Marvel retheme of the "take that" game Villainous. This time, instead of controlling a Disney character, you are in the role of an iconic Marvel villain. Thanos, Taskmaster, Hella, and others attempt to complete their goals before the heroes of the Marvel Universe can stop them. Unfortunately, I ended up liking the original Villainous a little better for a variety of reasons, so Marvel Villainous only checks in at number 10.
2-4 Players • Ages 12+ • 45 minutes • $34
9. Marvel Splendor
Splendor itself was already a great game, and this Marvel retheme makes it an enticing option for any fans of the comics. While the overall gameplay is largely unchanged from the original, they made a few tweaks, other than theme, to really help give this one some legs. If you'd rather be collecting infinity stones than random gems, you can have some fun with Marvel Splendor.
2-4 Players • Ages 8+ • 30 minutes • $39
8. Marvel HeroClix
Marvel HeroClix has been around forever, and the HeroClix system itself has gone through so many licenses and iterations that it's pretty much perfected at this point. Marvel Heroclix is a light skirmish game that will have you battling another player's team in a slugfest of Marvel heroes and villains. The only reason I don't have it higher on the list is that I'm not a fan of the blind booster pack draw and rarity of the characters. I vastly prefer games where you know what purchases you are getting.
2 Players • Ages 8+ • 60 minutes • $35
7. 5-Minute Marvel
This was a game I didn't expect to like as much as I did. 5-Minute Marvel is a real-time filler game where players are working together to defeat thugs, masterminds, and villains from the Marvel universe. The gameplay is mostly just playing cards quickly as you can to match up symbols, but it's still pretty entertaining. You need to coordinate with your fellow players to use resources, defeat bad guys, all while the clock is ticking down. There isn't a ton of depth here, but as a quick game to pull off the shell to kill some time, it's excellent.
2-5 Players • Ages 8+ • 5 minutes • $31
6. Marvel Dice Masters (review)
Dice Masters is an evolution of the Qurriors system that has players drafting dice for some 1v1 battles. Each player fields a team of superheroes from the Marvel Universe, with each character represented by custom dice. It's a clever system that has already spawned a massive amount of expansions. Much like HeroClix though, I wasn't a fan of the blind booster draws as that can end up being a money sink. Still, from a pure gameplay perspective, it's a lot of fun.
2 Players • Ages 10+ • 60 minutes • $11
5. Heroscape Marvel: The Conflict Begins
Heroscape Marvel was an offshoot of the Heroscape system that let players field a team of superheroes in a giant battle. One of the big draws of the game, other than the preprinted miniatures, was the huge battlefield terrain. The overall gameplay is really streamlined, and moving your heroes around the battlefield to different elevations is a ton of fun. I was pretty bummed this one didn't get more traction. The system in general is pretty great, and the Marvel skin makes it even better.
2 Players • Ages 8+ • 60 minutes • $75
4. Marvel Crisis Protocol
For those that want a Marvel branded skirmish game, it's hard to do better than Marvel Crisis Protocol. Players will be fielding a team of Marvel heroes and villains to battle for control of objectives. The miniatures look excellent, although they do need to be assembled (and ideally painted) to really get the most enjoyment out of games. But not only do each of the characters feel thematic, but the game also features interactive terrain. You can climb buildings for a better shot at your opponent, or even chuck a dumpster at them.
2 Players • Ages 10+ • 45 minutes • $80
3. Legendary: A Marvel Deck Building Game (review)
Outside of Dominion, Marvel Legendary was my favorite deck-building game for a long time. Players will team up to take on a villain from the Marvel Universe—Magneto, Red Skull, Dr. Doom, etc… You start out with a deck of shield agents but will improve by drafting powerful heroes that you can use for more influence (currency) or attack power. With about a billion expansion already released, there is no shortage of content for this great deck-building game.
1-5 Players • Ages 10+ • 30-60 minutes • $55
2. Marvel United (review)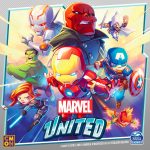 When I saw the Kickstarter of Marvel United I was intrigued, but unsure if the gameplay would hold up. Fortunately, it did! Marvel United has a great simplicity to it where its streamlined play is both easy to get to the table yet still manages to be tense and engaging. The core game comes with three unique villains to take on—Red Skull, Taskmaster, and Ultron, and players must work together with their limited resources to defeat them. While the core game is solid, I'm really looking forward to trying out some of the upcoming expansions this year.
1-4 Players • Ages 8+ • 40 minutes • $26
1. Marvel Champions (review)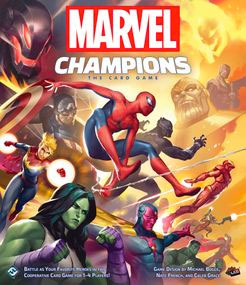 For me, there was no other choice for the number one spot than Marvel Champions. It was my favorite game release from the past five years and a title I still play regularly. In this living card game, each player builds a deck of powers, allies, and resources for a familiar Marvel hero. Then they team up to take on a villain who is not only attacking the heroes, but trying to complete its scheme. There is an infinite amount of customization in this Marvel Champions, and with monthly expansions coming out, no shortage of content. The characters in this game also do a great job of drawing on their comic book source material as reference points, meaning that the theme goes a lot farther than skin deep. If you are looking for a Marvel game to get, you've found it with Marvel Champions.
1-4 Players • Ages 12+ • 45-90 minutes • $47