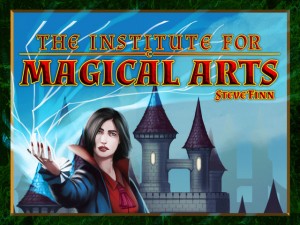 Dr. Finn is the king of filler games. He has made some absolutely fantastic games that are all very accessible and play in under an hour. Lately we've been really enjoying Capo dei Capi and I'm also looking forward to playing Let Them Each Shrimp! once it's published. Well the Doctor is back on Kickstarter with his newest offering for your tabletop.
The Institute for Magical Arts puts players in the role of competing mages vying for control of the magical academy. This 2 player game offers some unique mechanics and fantastic artwork that has me eager to play it again (fear not, I'll be previewing the game soon). But to get you started, here is a little bit about the game:
From the Kickstarter Page:
If you'd like to know more, you can head over to the Kickstarter page for game play reviews, overviews and to check out the great looking artwork. To become a backer, a $25 pledge will get you a copy of the game and any applicable stretch rewards. There are also other backer levels if you'd like to get some of Dr. Finns other titles included with your pledge. The Institute for Magical Arts is scheduled to be in backer's hands in February of 2015 and you have until Monday, September 1st to become a backer. So head over today and check it out.