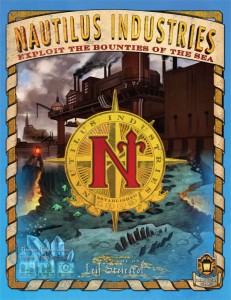 You won't see too many abstract strategy games here in our Kickstarter of the Week series. Nothing against them, but I'm a guy that really gets sucked in by a good theme. I don't want to feel like I'm just moving cubes around a board, I want to play in a world. That being said, I really appreciate when publishers branch out into untested themes. I probably have enough games set in the Mediterranean or Renaissance Europe.
What that in mind, lets dive into our newest Kickstarter of the Week. Nautilus Industries, from Lamplight Games, players take on the role of a business owner looking to make their fortune at the bottom of the sea. Nemo is gone, but his machines live on!
From the Kickstarter Page:
In Nautilus Industries, players will take on the role of a business owner who seeks their fortune at the bottom of the sea. Word has spread of the riches that can be gathered from the depths, and the race to mine these rare earth elements has begun!

The actions you can take in Nautilus Industries are simple, making the game quick to learn and teach. It also means there is very little down time between turns. However, the variety of things you can manipulate and accomplish with these actions makes each game a rich, involved, and exciting experience. Your actions are limited, so use them wisely!
Lamplight Games has done a great job putting together their Kickstarter page and heading over there, you can find a wealth of information on the game. There are images of the components (the art looks great), reviews, a rule book, and pledge information.
If you'd like to become a backer, a $49CAD (about $44 USD) pledge will get you a copy of the game and all stretch goals. Nautilus Industries is scheduled to be in backer's hands in May of 2015. You have until Thursday, September 4th to become a backer, so head over today and check it out.