Ever since I first got my hands on 7 Wonders, card drafting, or the "pick and pass mechanic" as it's been called, has been one of my absolute favorite mechanics in tabletop gaming. I love the sense of wonder and anticipation that I get each round when a new hand is passed to me. Will it have the card I need? What could be in there? I feel like a kid on Christmas, and I can't get enough of this mechanic.
Surprisingly, card drafting isn't as ubiquitous as other mechanics. While you will find dozens upon dozens of worker placement games, card drafting is only slowly making its way into more games. Even still, there are quite a few really good drafting games out there, so let's take a look and see which games are our favorites.
Top 10 Card Drafting Games
Honorable Mention: Blood Rage
To be honest, Blood Rage could easily be a top 3 game on this list. However, I'm not really sure it's a card drafting game. I think it's more of a minis/war game that has some card drafting in it. So looking at it from that angle, I can't qualify it as a "card drafting" game. But Blood Rage is still pretty awesome, so it at least deserves a mention here.
2-4 Players • Ages 13+ • 60-90 minutes • $60
10. Lost Legends
Lost Legends is a game that sounds great in theme and mechanics, but fails a little bit in execution. It's a game about equipping your adventurer before you head into the dungeon to fight some monsters. I really enjoyed the drafting aspect, getting weapons, armor, spells, and skills. However, the second part of Lost Legends, where you actually fight, doesn't work that well. And if you happen to die during that phase, forget about ever catching up. You're basically done.
3-5 Players • Ages 10+ • 60 minutes • $30
9. Treasure Hunter (review)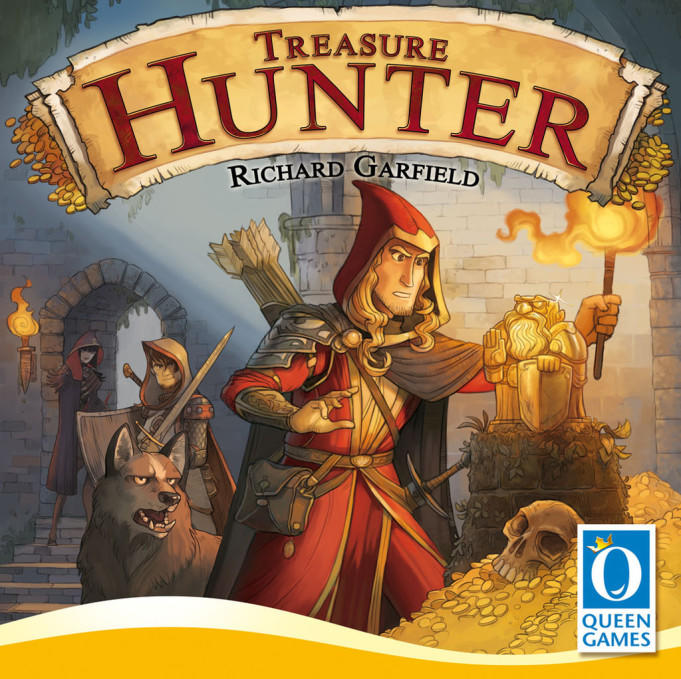 Designed by legendary game designer Richard Garfield, Treasure Hunter is an excellent medium-weight card drafting game. The rules are fairly easy to pick up and the theme/art is family friendly. It involves players drafting cards in the hopes of acquiring treasure on an expedition. Its rules, art, theme, and mechanics all make Treasure Hunter a great "next step" game.
2-6 Players • Ages 8+ • 40 minutes • $35
8. Fairy Tale (review)
Fairy Tale is a card drafting/set collection game where players are trying to score the most points, while also interfering with their opponent's ability to do so. While the artwork isn't really my cup of tea, I can definitely see it appealing to others. The rules in Fairy Tale aren't as easy as some other gateway drafting games, but are still simple enough for new players to pick up quickly.
2-5 Players • Ages 10+ • 30 minutes • $15
7. Best Treehouse Ever
A relative newcomer to the card drafting genre, Best Treehouse Ever is a family friendly, card drafting game with some super simple mechanics. Players are trying to build a great treehouse, consisting of a number of different colored rooms. You can jump into a game with only a minimal rules explanation, making Best Treehouse Ever and ideal gateway drafting game. The game is fairly light, so whether you are looking for something to play with your non-gamer friends, or as a filler in between other games, Best Treehouse Ever can be a great choice.
2-4 Players • Ages 8+ • 20 minutes • $20
6. Nevermore (review)
Nevermore has players trying to acquire the most victory points over the course of the game. The unique aspects of Nevermore come from the action cards that can be drawn each round, allowing you special onetime powers or the ability to attack your opponents. Each player in Nevermore also has a number of life points that, and when run out, the player turns into a raven. The cool part is that even as a raven you aren't out of the game and still have a chance at winning.
3-6 Players • Ages 13+ • 45-60 minutes • $20
5. Hollywood
If you've ever wanted to create your own movie, Hollywood is for you. In this card game, players will be drafting different parts of their movie: script, director, and actor(s), at a very minimum. In addition to those, players can draft cards with special abilities, such as a PR Specialist or Lawyer, to help increase the marketability of their movie. Although this one is hard to find, it's got a great theme and is a fun game for any fans of the drafting genre.
2-6 Players • Ages 13+ • 30 minutes • Out of Print
4. Among the Stars
In Among the Stars, plays are trying to build a space station worth the most victory points. Players will be drafting different parts of their station each round and must use the games two resources, money and power, wisely if they hope to win Among the Stars. The unique power plant mechanic means that you not only have to be aware of how much power you have available, but also the distance to the cards you want powered.
2-4 Players • Ages 12+ • 30 minutes • $30
3. Tides of Time (review)
Tides of Time was the first game to bring us a fun card drafting game that can be played with only two players. Other games have tried through the use of variant rules and dummy players, but the results have always been a bit lackluster. In Tides of Time, players are trying to score the most points over three, quick playing rounds. This micro game helped interest me in the micro genre again and also boasts some incredible artwork.
2 Players • Ages 8+ • 15 minutes • $10
2. Sushi Go! (review)
If you are looking to introduce someone to the card drafting mechanic, Sushi Go! is usually my go-to game (Although Best Treehouse Ever also makes a compelling alternative choice). The rules are super simple, choose a card, and pass the rest. In fact, publisher Gamewright Games calls it a "pick and pass" game. Sushi Go! is primarily a set collection game that distills the card drafting mechanic down to its essence.
2-5 Players • Ages 8+ • 15 minutes • $10
1. 7 Wonders (review)
The first card drafting game I ever played and still easily my favorite. The theme, the mechanics, and the play time, are all just spot on for me. 7 Wonders is the game that launched the genre and, in my opinion, is still the king. There have been a number of expansions released for this card drafting giant, and it quickly turned into a game that I will play anytime anyone ever suggests. The long rumored 7 Wonders tablet app is going to be an instant purchase for me…assuming it's ever released. If you want the best card drafting game out there, 7 Wonders is it, and has the awards to back it up.
2-7 Players • Ages 10+ • 30 minutes • $35
There you have it, our Top Ten Card Drafting Games. What is your favorite card drafting game? Let us know in the comments below.