A couple of weeks ago we announced our nominees for our 4th annual Board Game Awards. There were many amazing board games released in 2016 and I'm always excited to take one last look back at the year to recognize the best and most creative among them.
Today we are excited to announce the winners for our 2016 Board Game Awards. As usual, the voting was difficult and some categories were extremely tight. But our editorial staff (along with input from our readers) have made their selections. So without further ado, here are the winners of our 4th Annual Board Game Quest Awards. Congratulations to all the winners and nominees.
2016 Board Game Award Winners
Best Cooperative Game
Mechs vs Minions
Designer: Chris Cantrell, Rick Ernst, Stone Librande, Prashant Saraswat, Nathan Tiras
Riot Games
Get Your Copy
Publisher Riot Games has never created a board game before, having focused primarily on their insanely popular video game League of Legends. Yet in 2016, they ventured into the tabletop arena with their very first board game. Mechs vs Minions is a highly entertaining action programming game that not only plays great, but looks amazing.
Runner Up: Mansions of Madness: 2nd Edition
Best Tactical/Combat Game
Cry Havoc
Designer: Grant Rodiek, Michał Oracz, Michał Walczak
Portal Games
Get Your Copy
One of the most unique tactical games to come out in a while, Cry Havoc took the summer convention season by storm and, after playing many games, it's not hard to see why. With a unique combat resolution system and four asymmetrical factions, Cry Havoc's creativity makes it a game we are always eager to get to the table.
Runner Up: Star Wars: Rebellion
Best iOS Board Game
Patchwork
Developer: DIGIDICED
Mayfair Games
Get Your Copy
iOS Board Games are a fast growing genre on our devices and I'm glad for it. While we would always rather play at the table, they are great to have when you are by yourself. There were many great board game adaptations released in 2016 and Patchwork rose to the top with its smooth gameplay, excellent visuals, and all around superb programming. Developer DIGIDICED really has set a benchmark of what a digital board game should be.
Runner Up: Pathfinder Adventures
Most Innovative Game
Mystic Vale
Designer: John D. Clair
Alderac Entertainment Group
Get Your Copy
Released at Gen Con 2016, Mystic Value was definitely the most unique game we played at the convention that year. This title is the first in AEG's new "Card Crafting" line of games that has players using transparent cards to "build" cards as the game progresses. It was defiantly a clever concept and I'm excited to see where they take this line in the future.
Runner Up: Vast: The Crystal Caverns
Best Production Values
Mechs vs Minions
Designer: Chris Cantrell, Rick Ernst, Stone Librande, Prashant Saraswat, Nathan Tiras
Riot Games
Get Your Copy
In one of our tightest races of the year, Mechs vs Minions barely inches out Scythe for Best Production Values. Both games had amazing artwork, components, and even custom inserts. But with its pre-painted minis, custom sand timer, and legacy style elements (sealed boxes and envelopes), we have to hand it to Riot Games, they thoroughly impressed us with Mechs vs Minions.
Runner Up: Scythe
Best Strategy/Euro Game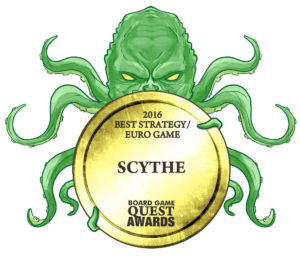 Scythe
Designer: Jamey Stegmaier
Stonemaier Games
Get Your Copy
Scythe was one of the most hyped games to come along in a while thanks to its gorgeous artwork, great looking components, and Stonemaier's reputation for quality. And for us, the game didn't disappoint. Overall we all had a great time playing Scythe with its unique blend of resource management, player interaction, and different faction powers. Scythe could have easily been turned into "just another war game", but instead, its mechanics are cleverly based on the "threat of combat", which works perfectly with the theme its set in.
Runner Up: Great Western Trail
Best Card Game
Villages of Valeria
Designer: Rick Holzgrafe, Isaias Vallejo
Daily Magic Games
Get Your Copy
Villages of Valeria was an instant hit with us after our first play. It had beautiful artwork, rock solid mechanics, and entertaining game play. Publisher Daily Magic Games definitely hit on something special here and in our review, we even had a hard time thinking of things we didn't like about the game.
Runner Up: Mystic Vale
Best Two Player Game
Star Wars: Rebellion
Designer: Corey Konieczka
Fantasy Flight Games
Get Your Copy
An epic game set in the Star Wars universe that sends the Empire hunting for the hidden rebel base. Star Wars: Rebellion spans the entire galaxy, boasts a ton of miniatures, and some really deep mechanics. Star Wars: Rebellion is so engaging, that even though its play time clocks in at around three hours, it never feels like it's taking that long to play.
Runner Up: Onitama
Best Family Game
Ice Cool
Designer: Brian Gomez
Brain Games
Get Your Copy
Ice Cool ended up being the most recent game that we labeled "more fun than it has any right to be". The game play is super simple, flick your penguin around the school house, either to collect fish or catch the other penguins. It's fun, accessible, and can be enjoyed by just about everyone. We've played more games than we can count of Ice Cool and it never seems to lose its charm.
Runner Up: Sushi Go! Party
Game of the Year
Terraforming Mars
Designer: Jacob Fryxelius
Stronghold Games
Get Your Copy
Mars has been a hot theme recently with more than a few games taking us to the "Red Planet". However Stronghold Games' hit title about corporations working together to setup Mars for colonization not only sold out of its first print run, but continues to fly off the shelves. Designer Jacob Fryxelius definitely created something special here and did a great job of creating a game that integrates its theme so tightly.
Runner Up: Scythe
Note: Per award rules, because it won Game of the Year, Terraforming Mars was removed from consideration from other award categories.