As one of the largest toy companies in the world, HASBRO knows a thing or two about childhood fun. They also happen to own Wizards of the Coast, the company behind Magic: The Gathering and (since 1997) Dungeons & Dragons. With this in mind, you would expect their presence at Gen Con to be huge and pervasive. Not so.
This year, Hasbro opted to stay out of Gen Con and specifically run their own convention with a focus on their juvenile products, toys, and hobby games. This tactic is designed to allow Hasbro to control the marketing of their brands and allow consumers a one-stop-con to engage with all things Hasbro. This was the concept of HASCON.
Since the event was local, I first considered attending as press. Since their press department never responded to our inquiry, I initially looked at the standard pricing. A single day ticket costs $60 and the 3-day (Fri, Sat, Sun) badge was $165. Those differed somewhat with Gen Con ($75 single day, $90 4-day), but with a lot less content. Since I wasn't expecting to engage in a lot more than checking out the exhibitor booths and D&D, I found a Groupon for 50% off.
As of this writing, Board Game Quest is waiting on overall attendance figures from Hasbro PR. Suffice it to say, an event like Gen Con dwarfs HASCON in size. The main reason for this is the extremely limited scope. HASCON has mainly targeted families and specific fans of certain IPs. For Transformers, Star Wars, and Marvel toys, there's no other manufacturer. Toss into the mix My Little Pony and NERF, and it's an admirable product lineup cutting across the 5 to teenage range. Once (they hope) teenagers discover Magic and D&D, they're lifelong Hasbro customers.
However, all of this is a marketing perspective. Does HASCON work for the fans? It's modeled after other conventions albeit with a corporate structure, so hopefully the organization and the ability to pull in star talent will create something unique and cool. Unfortunately, this is not the case.
Anyone who has attended Gen Con, especially this past year, knows the history of geeks communing in the wilds of the midwest to geekily explore, fight wars, and have adventures filled with full-frontal-nerdity. The slow growth of Gen Con has always been driven by fans and event creations. The ticket-plus-event system was originally designed for miniatures battles and D&D sessions. This encouraged individual GMs (including yours truly) to create exciting encounters to attract players. The fans who invested in this system received the attention and some free attendance.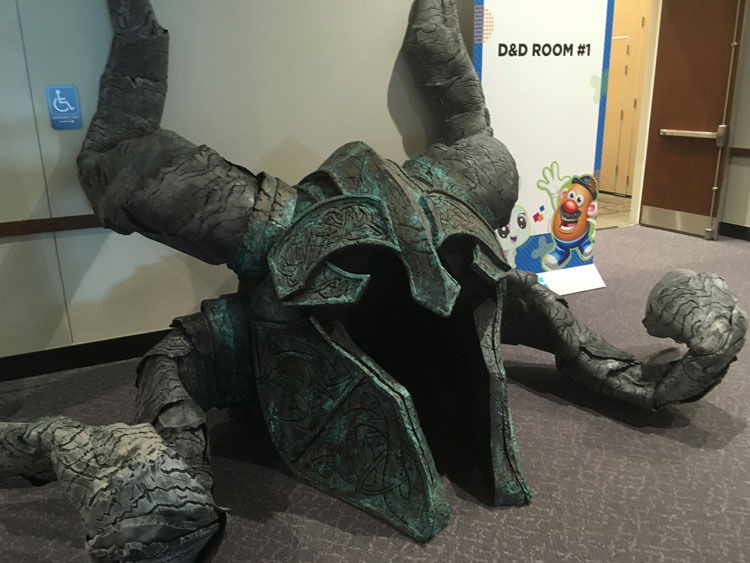 Hasbro's attempt here has all of the polish, chrome, and glitz of a well-tuned corporate marketing machine. Worried about badge lines? Not an issue. Messy or disorganized booths? Nope. Tight space in the exhibit hall? Negative, there were huge tracks of convention floor.
But what Hasbro misses here is the fan-propelled energy and ownership that comes from being free to express that engagement in a style the fans own. Exhibitors, even small retailers, were not allowed to sell any products that didn't have a relation to Hasbro or one of its licensed properties (this means Cool Stuff Inc was only selling Magic singles and boosters). Also, the included exhibitors were a strange smorgasbord of companies that do business with Hasbro, including American Greetings and Deloitte (yes, the accounting firm). And last but not least, all events were structured events run by Hasbro. This is not surprising. Homebrew events and custom D&D worlds were not part of the lineup, something that can be ubiquitous at Gen Con.
The other lines of potential gamer interest were the tabletop board games. Hasbro's product development has focused more and more on the press-your-luck, short fun and sub-8 year old market with games like Pie Face, Egged On, and Toilet Trouble. Options for more thinky engagement similar to Haba Games are not their thing.
Overall the event felt like, including the massive main stage set up in the Dunkin' Donuts Center arena, a corporate sales pitch. One of the simplest events I wanted to experience was to see how a demo of D&D would go. An introductory adventure to a product line where the initial cost is $100 should be something short and, more importantly, free. That was not the case.
I may get flack for complaining about a $5 fee for an introductory 2 hour D&D adventure, but I don't think I'm off the mark. There are plenty of smaller companies at Gen Con with 1/100th the resources of Hasbro who are certainly willing to put forth that effort to onboard a customer. The simple cost of exclusivity drives this. It's their event and they're the only ones who will be running these D&D scenarios. Due to the fact that there were no free D&D experiences, it's stands to reason Hasbro is still struggling to see the return it likes from Dungeons & Dragons. And I didn't even mention the 5-hour D&D event which cost $107 per person (10 hours for $214)!
Probably from the whole convention, the biggest draw was the exclusive content, especially the autograph sessions and panels. Particularly the sales of HASCON exclusive action figures, playsets, and even the D&D My Little Pony Dice Tin were popular.
Sorry Hasbro, HASCON may work for toy fans and hardcore Magic players looking for a well-run tourney, but for board gaming and an overall gamer scene, this won't be it. And that's probably not what Hasbro marketing wants anyway. Board gamers and even mature D&D players can feel secure in skipping HASCON for the foreseeable future for more experienced gamer-run expositions.
You can see all our photos from HASCON in our photo gallery here.