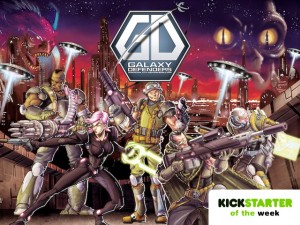 This week we are taking a look at one of the more popular type of games that have been appearing on Kickstater lately: The miniatures game. With the rousing success that was Zombicide, games with a pile of nice looking minis are selling like hotcakes right now. And who can blame them. Great looking components will help sell any game, just look at Super Dungeon Explore.
Galaxy Defenders is a cooperative, tactical board game, inspired by the classical Sci-Fi movies and video games of the '80s and '90s. Looking at their Kickstarter page, I can immediately see the influenced from those movies. The Kickstarter promo figures are clearly inspired from Predator and Aliens. I also like that the game has a Sci-Fi theme as I feel the we are on a bit of Zombie overload lately.
The game is a cooperative one where the players must defend their planet from an alien invasion. The game uses a card driven mechanic to run the aliens and the players control the defenders together. The game features a scalable difficulty and a missions/campaigns system. Here is an overview from their kickstarter page:
These components aren't final but the still look pretty good.

The game includes different mission, each mission providing a different challenge to the players.

After setting up the mission, game play revolves around a tactical combat system, that uses custom 10-sided dice.

Each player, in sequence, activates his agent. After an agent takes his or her turn, the aliens take their turn. After the actions of agents and aliens are completed, the round ends with an Event phase.

There is no "Alien player": In Galaxy Defenders, the aliens are controlled by the game system itself, through an artificial intelligence system based on TWO types of cards:

ALIEN CARDS: Alien cards define the behavior of each different alien, along with its movement value, skills, life points and weapons.
Each alien figure on the map will be linked to a specific card, to keep track of everything that happens to that alien.

CLOSE ENCOUNTER CARDS: These cards are drawn at the beginning of each alien turn to determine which aliens will be activated.

The combination of a unique A.I. for each alien species, and the uncertainty about which aliens will be activated in a turn, are an incredibly realistic simulation of the chaos of battle, and provide  a very sophisticated challenge to the players' skill.
So there you have it. If you are looking for a game with some nice minis and a fun, Sci-Fi theme, be sure to check out Galaxy Defenders. While I'm not currently backing it now (I'm thinking about it, unfortunately those KS dollars aren't unlimited), the game has already more than doubled its funding goal so it appears many people are already on board. So head over to their Kickstarter page if you'd like to know more about this game. You have until May 21st to make up your mind.