An ode to Phil Walker-Harding… If only we had all day. Phil Walker-Harding is well known for taking game concepts that sound simple and implementing them in a satisfying and fulfilling way.
This review will look at Cloud City. Cloud City works like many polyomino tile-placement games we've seen (including Phil's own Barenpark). However, instead of pieces having various shapes, Cloud City takes to the sky with 3-D building pieces that cover 1 of 3 heights and bridges to connect them.
Cloud City is a tile-placement game for 2-4 players that takes about 30 minutes to play.
Gameplay Overview:
In Cloud City, each player starts with a starting tile in play and a hand of 3 tiles from the general supply. All tiles have two colored spots that correspond to different building heights. Blue buildings are the shortest, greens are medium, and beige buildings are the tallest. Every round, players will take turns playing one tile from their hand, placing the appropriate buildings, constructing any number of bridges that connect buildings of the same height. They then draw a tile from the face-up tiles available or randomly from the deck.
The longer a bridge is, the more points (AKA council votes) it is worth. The range is from 1 to 8 points per bridge. Players will build a 3×3 grid in a 4-player game or a 3×4 grid in a 2 or 3 player game.
Once everyone has finished their grid of tiles, players add up the points on all the bridges built in their city. Points can be added or subtracted by the optional special request scoring cards (up to 2 per game). The player with the highest score wins.
Game Experience:
The theme is architects designing skyscrapers that go above the cloud to earn the most votes from the city council. In many ways, that theme comes through pretty strongly as you build what is essentially a 3-D model. There are special request cards that can also add to that thematic element. By the end of the game, you will have put together something that looks unique and pretty darn striking. Everyone's city is going to look cool and picture worthy.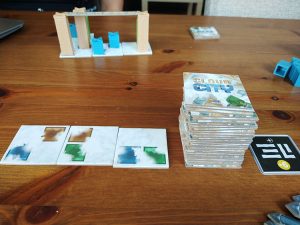 Cloud City is a family weight game. It's laid back and quick. You don't do a lot each turn, and, because you can plan your next move with the tiles in hand, there is very little downtime. It takes a couple of minutes to teach and only a few rounds for a gamer to grasp the strategies involved. For the most part, you can plan your next tile placement or two. Anything beyond that will require the right tiles coming up at random.
You may find some excitement in the race to get to the 8-point bridges early on. After the first few rounds, that tension fades as there are generally plenty of 5-point bridges and seemingly unlimited 3's, 2's, and 1's. Sometimes, there is a trade-off between building a bridge in the current round or waiting until later. Aside from those longer bridges, what you need to build can likely be built later, and you could, theoretically, build all your bridges on your last turn.
I do think the special request cards add a nice bit of variety and thoughtfulness, and I would not recommend playing without them. However, their impact on end game scores usually isn't huge, and some really just emphasize the luck of the draw.
Final Thoughts
Most of Phil Walker-Harding's games are uber accessible. This one is no exception. However, while many of his other games work well at engaging both seasoned gamers and new gamers, this one may only keep the new gamers coming back for more. While I consider many of his games to be must-haves or classics, this one doesn't rise quite high enough, but it's structurally sound. See what I did there?
You can bring this out with just about anyone for an intro to tile-laying or a pleasant filler. I don't see this being the main course or one where you can keep finding new avenues to try. Still, the gameplay is solid, and besides being a light affair (which it aims to be), there's very little to criticize here.
Final Score: 3 Stars – A very light tile-placement game with an eye-catching and thematic dressing.
Hits:
• Easy to teach/accessible
• Quick with little downtime
• Thematic
• Visually impressive
Misses:
• Light on strategy/planning
• The luck of the draw can play a significant role
• Tension wanes as the game goes on