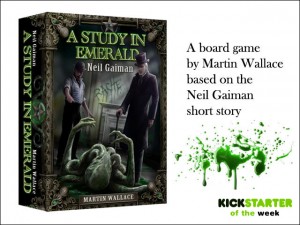 What do you get when you take Sherlock Holmes, Cthulhu, Neil Gaiman and Martin Wallace and throw them all in a blender? You get the new game: A Study in Emerald and our newest Kickstarter of the Week.
A Study in Emerald is a deck building game by famed game designer Martin Wallace. Based on a short story by author Neil Gaiman, A Study in Emerald is a game for 2-5 players fighting in a secret war to free mankind from the servitude to the Old Ones. Each player will have a secret identity and fight for either the Restorationists or the Loyalists.
From the Kickstarter page:
Martin Wallace has concocted possibly his most subtle, complex, and downright evil design yet. If you know what you're doing after the third game then you have not understood the rules!

The game takes an original slant on the deck-building mechanic. Instead of buying the cards you want you have to bid for them with influence. The range of cards is massive, with only a few duplicates. You can employ secret agents to carry out your plans, or quietly subvert a city to your control, call up monsters from other dimensions to destroy your enemies, or raise an army of zombies. No two games will ever be the same.

This game will initially only be available via Kickstarter or direct from Treefrog Games, it will not be going into general distribution. We may or may not publish a second edition of the game for general distribution, but if we do the earliest you are likely to see it is 2015.
So if you are looking for a deck building game by a big name designer, it's worth giving A Study in Emerald a look. Backing the project will cost you £50 to get the game. Yes, it's in pounds, so be aware of the conversion rate. You have until May 24 to decide if you want in.